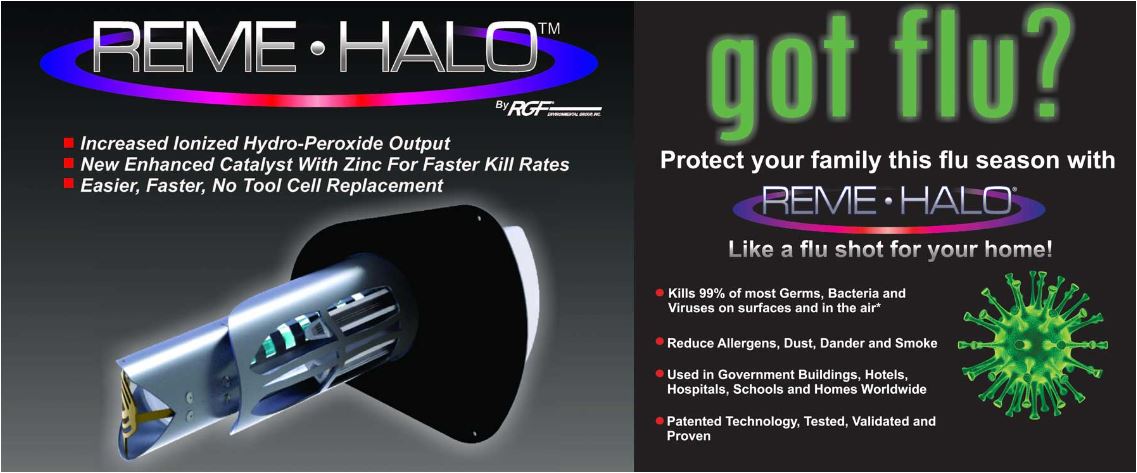 The air you breathe in your home should be filtered to stop contaminants from outside from coming in and prevent indoor air pollutants from infecting your family. The REMO Halo air purifier is an acronym for Reflective Electro Magnetic Energy, a product designed to purify air from ionized hydrogen peroxide molecules throughout your home. The molecules are filtered through the air to destroy any bacteria, mold spores, odors, viruses, and Volatile Organic Compounds (VOC) used to build our home that give off gases.
Exposure to VOC's can cause many health issues including irritation to the eyes, nose, or throat, nausea, damage to internal organs and possibly allow carcinogen exposure. The system is compatible with most HVAC systems using your existing ductwork to purify the air.
There are two types of REMO Halo Systems – one that utilizes ultraviolet light and the other utilizes LED light. The UV light emits ozone into the air, whereas the LED is ozone-free. LED lights last longer than the UV light by an additional 2-3 years. The LED uses less power as it only turns on while being used, and the UV is always on. The UV REMO may cause an odor from plasma build up, but can be adjusted through a circulation mode on your thermostat.
The initial cost for the LED will be more, but will last longer, reducing the cost of replacement. Either system works effectively to reduce 99% of airborne particles and bacteria reducing the likelihood of strep, flu, and other viruses from spreading in your household.
Did you know that the system can kill germs from a sneeze within 3 feet?
A few stats about the REME Halo System:
Pet odor reduction in 24 hours
Smoke odor 70% reduction
Black Mold reduced by 99+%
MRSA reduced by 99+%
Bacteria that causes E-Coli, Listeria, Legionnaires Disease, Listeria, Streptococcus Pneumonia reduced by 99.9+%
Reduction of 99.9+% in airborne viruses that cause SARS, Covid, Swine Flu, Bird Flu, and Norovirus
Call Purair HVAC Solutions (832) 477 0615 to learn more about ways to increase the longevity and efficiency of any unit through proper installation of equipment, service procedure and maintenance to ensure the comfort and safety in your home for your family.
---